A talented trio of artists presents – RASA
Rasa in Sanskrit connotes a concept in Indian art about the aesthetic flavour of any visual, literary or musical work, that evokes an emotion or feeling in the reader or audience, but that cannot be described. It is the essence of the art form. This art form will be presented by talents of Avind Ganesh, Damian Moore and SahFyhr at 101 Gallery launching on Friday November 17th .
There are nine (9) types/emotions of Rasa in art known as the Navarasa. For the purpose of this exhibition, the artists will portray these various Rasa through the concept of the three dynamic virtues (Tri Guna) in Hinduism namely, Satva (harmony/goodness); Rajas (passion/activity) and Tamas (chaos/darkness).
SahFyhr is a breakout henna and multimedia visual artist from Trinidad specialising in organic body arts, paintings, paper quilling, edible art decor and design. Her work has been described as an "experience" and heralds a focus that feels familiar, but definitely strikes out on its own unbeaten path.
Heavily inspired by LOVE, colour and culture, the range of her artistic work reflects her passion for the diversities of her Caribbean upbringing. Since graduating in 2002 from the University of Maryland, she has been dedicated to finding her unique artistic voice. Her love for colour has allowed for her body art designs to be translated into vibrant, dynamic and eclectic original artworks, such as the ever intriguing paper quilling art, 3D paintings, ceramics and other multimedia creative works. She hopes that as she continues to express her love of embracing our Caribbean diversities through her work, she can continue to open minds and inspire all who are able to experience them.
Avind Ganesh surpasses all expectations of the traditional artist. Hailing from Central
Trinidad, this Art Teacher believes that art is the beauty with the ability to heal the wounded soul. Staying true to his Asian heritage, Avind often creates contemporary masterpieces infused with the modern touch suitable for all tastes. His Trinbagonian roots are evidenced by his use of vibrant colour and rhythmic patterns in his pieces.
Avind has done exhibitions since 2014 and prior to this, he has had his pieces exhibited in the Piarco International Airport and the Central Bank of Trinidad and Tobago alongside several famous local artists in commemoration of Indian Arrival Day 2012 and 2013 respectively.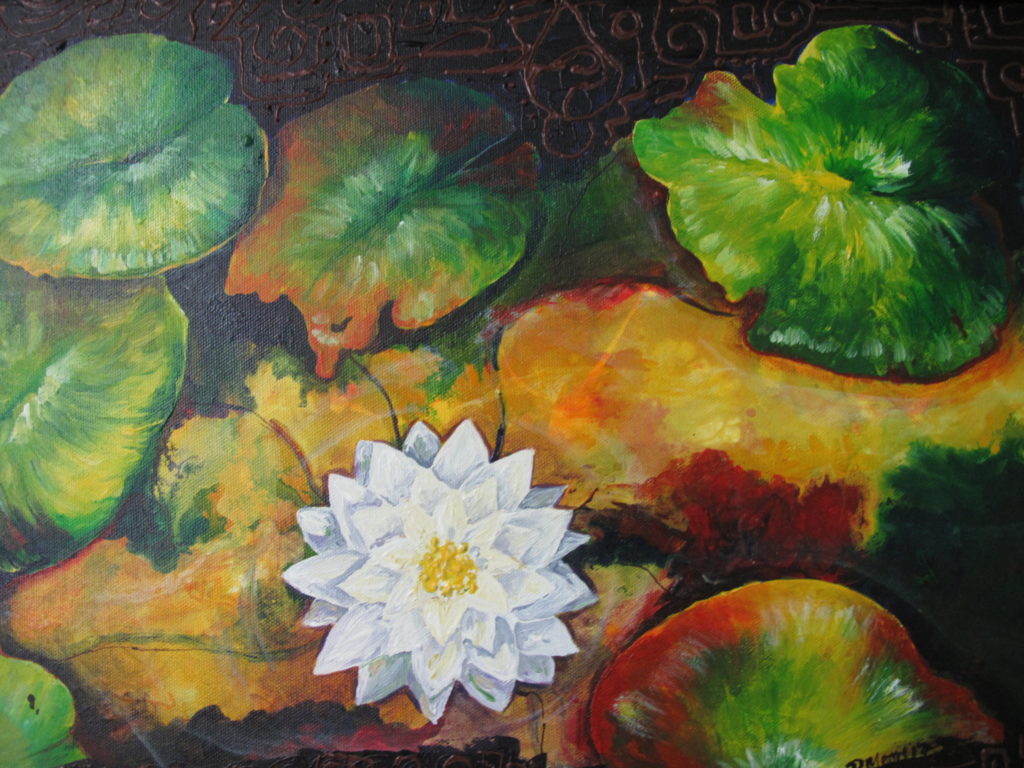 Damian Moore has a BA in fashion design at Caribbean Academy of Fashion and Design (CAFD) at the University of Trinidad and Tobago and a degree in Fine Arts from the University of Guyana. He manages his own brand under the label, Damian J Moore. His work portfolio includes fashion designing, original paintings, handmade bags, fashion accessories, and decorations. His diversity has led his works into many directions focusing on his culture and human nature.
Moore believes his work goes beyond the canvas to reflect the human "need" to rise against the odds. "In our personal struggles we are surrounded by darkness, which in my mind is like war, hurt, death etc. We need to break free. "I also looked for inspiration from the Goddess Saraswati, the Hindu goddess of divine music and wisdom, and discovered that there is a need for wisdom and learning in our personal life and in the world," he said.
Each artist would employ one of the three dynamic virtues, as above mentioned, in his/her work, through the multitude of intricacies and unique techniques interwoven in their many pieces. Hence, its subsequent Rasa. This sacred art reflects the nature of man in all his attributes and dives deep into the subconscious sea of thoughts and emotions.
Apart from the exhibition that runs until November 25th, the trio will be hosting workshops that explore art, life and the respective backgrounds and training of each artist.
We invite you to join us on Friday 17th November for the opening of RASA the exhibition, a reflection of unexplainable emotion. For more information please email ain@thefashionarch.com