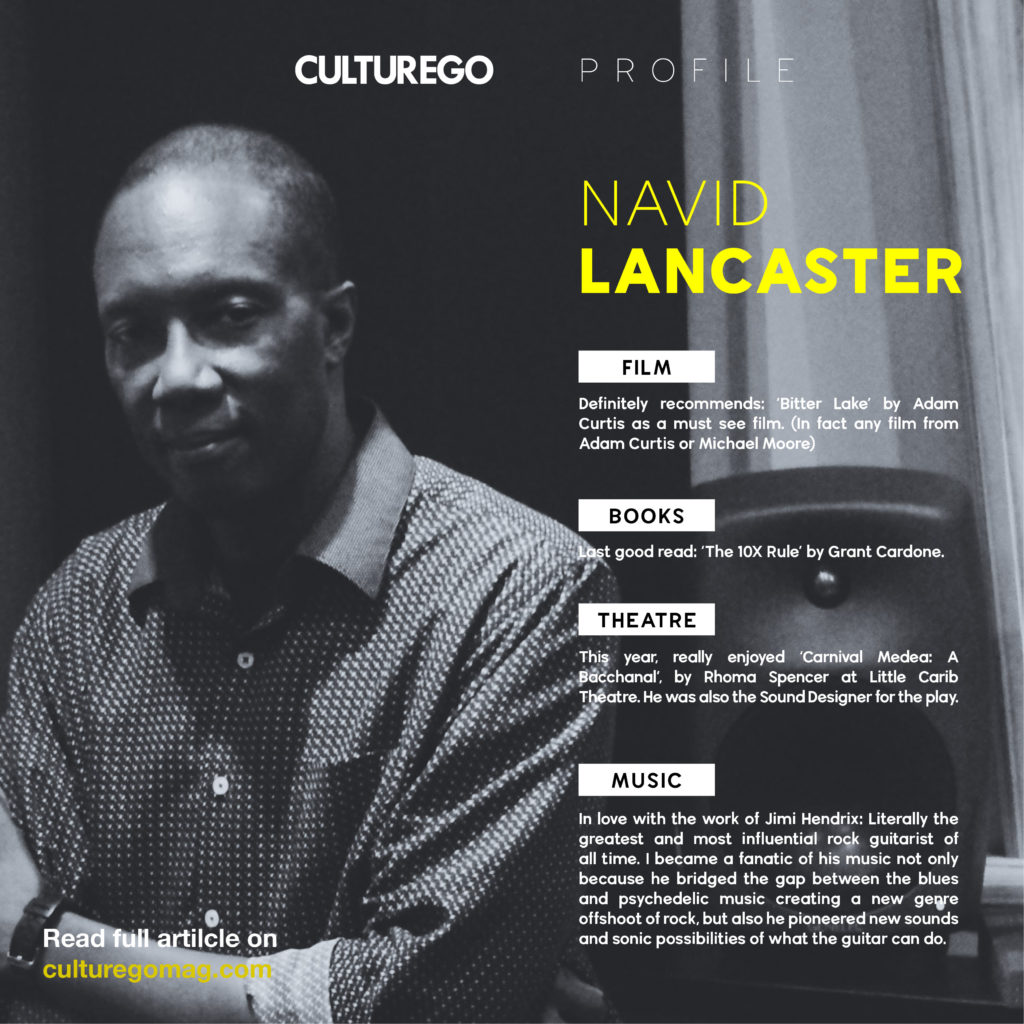 A short trip to Guyana at the age of 19, marked that decisive moment in the life of  Musician & Music producer Navid Lancaster, who confesses his absolute passion, reverence and addiction to the MUSIC, since then.  A self-taught guitarist, founding member of what he likes to call the first wave of "Trini-Progressive" music, trained over the years in Sound Engineering and New Media, last but not least a true Jimi Hendrix fan (send him an email and you'll see why!) today Navid sits at the helm of Lancast Ltd.,Production company which he founded in 2012.
In just 5 years, Lancast Ltd. has produced and co-produced the musical energy, the sensations behind, Buck – The Man Spirit (Director:  Stephen M. Taylor, 2012), TOMB (Director: Nicholas Attin, 2016), Jab in the Dark, (Director: Robert McFarlane, 2013/ Winner of People's Choice Award, ttff 2013), Pan! Our Music Odessey (Directors: Jerome Guiot, Thierry Teston, 2014), RE-Percussions: Pan – Our African Odessey (Director: Kim Johnson, 2015), Carnival Medea – A Bacchanal (Director, Rhoma Spencer 2017).
No stranger to the music industry in Trinidad and Tobago, Navid has seen quite a few "waves of great local music" – citing Carol Addison, Andre Tanker, Charlie's Roots, Taxi, Kiskadee Caravan – "come and go…" , but he also laments a music industry which seems to be sharply polarized on Soca/Calypso, all year round. Pluralism in our local music is lacking.  He states "there are many creatives who do not compose these genres (Soca / Calypso), and they should also be given a space to showcase their works via airplay and/or performance" –  Essential for a resilient, relevant and truly diverse music sector with global appeal.
[tw-divider]Interview[/tw-divider]

Who are you Navid ?
I am a member of the Bahá'i Faith, a musician and music producer/composer.
What is Lancast Ltd. all about?
We create the emotions for award-winning films, video games, mobile applications and animation.
As a cultural practitioner, and from your experience, how would you describe the music industry here in Trinidad & Tobago?
We are still living under the guise of focusing most of our creative musical energies for Carnival. That is a folly. Soca and Calypso are not only for Carnival – what about the rest of the year? We have so many other ways to channel our musical output towards other industries/occasions. We also have many creatives who do not compose these genres (Soca / Calypso), and they should be given a space to showcase their works via airplay and/or performance.
I believe our Music Industry comes and goes in waves. In the 70's Trinidad radio consisted of a lot of great, high quality local pop music. This first wave consisted of people like Carol Addison, Andre Tanker, Nappy Mayers, Vincent Scott and a host of other fantastic musicians, singers and producers ….. then that wave died off.
In the 80's we had great bands like Blue Ventures, Kalyan, Charlie's Roots, Taxi, Fireflight and a host of other great bands. David Rudder came and totally changed our concept of what calypso can become and local radio stations kept us aware, proud and happy with high quality local music …… then that wave died out.
Kiskadee Caravan came along in the 90's (3 Canal, Ataklan, Yard Fowl Crew, General Grant, Fate, Kindred and a host of other great groups and individuals) and showed us at that time (the Boom Generation) how great locally produced, well crafted music with a message can be popular with radio stations and the public …….. then that wave died out.
As for Local radio stations – I am patiently waiting for the next wave.
What was the turning point in your career?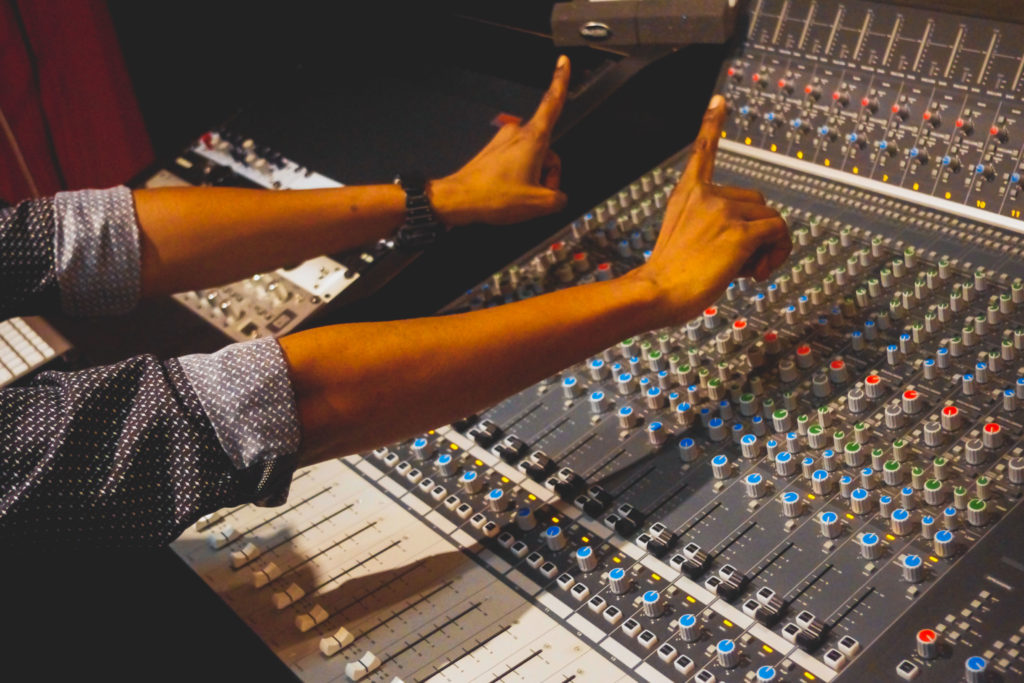 When I decided to stop being an employee for other recording studios and decided to take a leap of faith and go out on my own.
Could you define the role of an artist, a creative?
A person who is a conduit for expression; an interpreter of the senses. A person who has a choice of bringing a new perspective to the table or allowing the observer to form their own through the creative work.
How do you see your work changing the creative landscape in Trinidad and Tobago?
I hope that through my example that upcoming musicians and music producers realize that looking for radio airplay or stage performance are not the only ways of getting your music 'out there'. Also, they should stop thinking about Trinidad and Tobago alone. Look at emerging markets (China, Africa … etc). You may be surprised who may be interested in being a fan and/or buying your product.
What was your hardest lesson learnt?
If you do not learn about the 'business' side of the music industry it can be a cruel mistress. Learnt that one early on.
What would be your wish-list for creatives, individuals working in the Arts and cultural sector: to enable them to go even further in their projects, accomplish their dreams?
Read (and apply) the book 'How To Make A Living From Music' by David Stopps. It is available via the World Intellectual Property Organization (WIPO) website as a free PDF.
If you are a musician or a singer, learn to read music. This will make your life easier when speaking/collaborating with other musicians – trust me on this.
Everyone should have their own website. You cannot rely on social media only for the simplest reason – you don't own Facebook, Instagram or any of these companies. They change their policies, design and regulations constantly. Your website is a constant where you can control your message and use social media to guide your fans to your website.
Treat people well – Notice I did not say be a doormat or a stooge for people to take advantage of you. This is VERY IMPORTANT. This is a service industry and word gets around fast. Be professional.
Get mentorship – there is no problem in asking for advice from people more successful than you. I do it as well. In reality there are no 'secrets' and there is also the internet. If someone is hiding something or refuses to give you advice to keep a 'trade secret' to themselves then they are not worth your time. This is very common in the music industry unfortunately.
Be on time. I repeat. Be on time!!
Can you tell us about that one project you would like to develop?
Actually it's not one … it's three. I want to compose the soundtracks for 3 blockbuster films in 2017.
What does the future of the music industry look like?And how does one/ do you remain relevant?
I envision that practitioners within the music industry will learn more about the business aspect  and (most importantly) apply what has been learnt to raise the standard.  In this way, the music industry can significantly contribute to the national GDP throughout the year and not only for Carnival. If not, we would continue hearing the same complaints from artists that I've gotten for years.
In terms of staying relevant the aim is diversification. There are many ways that music can be applied via licensing (film, ad campaigns, video games … etc). Also taking care of your fan base through social media has become paramount. They (the fans) are sacrificing their interest in other artists by being your fan. What is it that makes you different, so that the fans can identify themselves with you? Solve that problem and you can corner a niche market.
[tw-divider]Moments of Magic…[/tw-divider]
Culturego Bonus question: "Moments of Magic"!
At Culturego Magazine, we truly believe that there is magic in creating and that Art is everywhere.  We ask artists to share a bit of that magic with us, by identifying that very special part of their creative process – the moment when magic happens.  Our question to Navid was:
What is your favourite time of the day, where you can see or feel magic?
Usually it's very early, in the morning. It's a time when all is quiet and I can hear myself think without being distracted by the activities of the rest of the day. I can get very creative on the guitar or piano around that time.