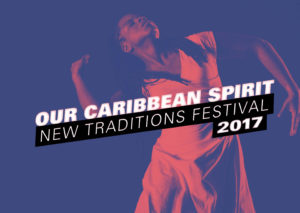 Dance Caribbean COLLECTIVE is in full swing with their diverse and dynamic programming leading up to the New Traditions Festival 2017. Both the festival and pre-festival season of events are themed under 'Our Caribbean Spirit', telling the story of our resilience and exuberance through movements from various islands. The culminating festival will take place at Mark Morris Dance Center running June 16-18, 2017 but you can take full advantage of the beauty in diversity with the Diaspora Dance Series beginning this week.
The Diaspora Dance Series offers an opportunity for the community to tour the Caribbean without leaving NYC. The classes range from Afro-Trinidadian Folk to Samba-Afro, from St. Kitts and Guyana Masquerade to Latin Social Dance, from Dance + Percussion to Dancehall Roots and more! Classes are held at 6:30pm, every other Thursday beginning April 13th, at Brooklyn Studios for Dance through June 22nd with an all-out dance party and gathering to celebrate the conclusion of the DCC season. Each class is facilitated by knowledgeable dance artists from across the diaspora including Michael Manswell, Joya Powell, Yaminah Legohn, Andrea E. Woods-Valdes and more. These passionate instructors await the chance to share 'Our Caribbean Spirit'.
Candace Thompson, Founding Director, states that DCC is committed to preserving Caribbean Culture through dance and giving dance artists from our community a large platform to showcase their work. She emphasizes, 'The Collective is doing so much for the Caribbean legacy, from developing and presenting choreographers, to educating the youth on Caribbean traditions, to creating digital hubs for Caribbean events and hosting public classes and talks on Caribbean dance forms. We are playing a pivotal role in how our story gets told in the Diaspora. We need the support of the community to sustain this important work.'
---
Coming up for Dance Caribbean Collective
Dance Caribbean COLLECTIVE is an organization that is dedicated to bringing and facilitating Caribbean Dance works, performances and culture to the Caribbean Diaspora in the U.S. and more specifically Brooklyn, NY.
[tw-divider]DCC Townhall, May 4th, 2017 6pm[/tw-divider] The DCC Town Hall at Brooklyn College will provide an opportunity to delve into the pressing issue of cultural appropriation. What efforts are needed on the part of artists, entrepreneurs, and audiences to care for our culture and livelihood in this time? [tw-divider]Community Caribbean Master Class, May 18th 6pm at BK College[/tw-divider] Join two expert teachers from Dance Caribbean COLLECTIVE – Maxine Montilus and Jessica St.Vil-Ulysses, as they share Haitian folkloric dance in their own special style. As a bonus, participants can also expect a taste of Soca + ContempoCaribe flavor with Candace Thompson. (FREE) [tw-divider]Open Rehearsal at BKSD Residency June 1st 8:15pm[/tw-divider] Get a sneak peak inside the rehearsal process for Our Caribbean Spirit through the creation process.
See more at our website: www.dancecaribbeancollective.org and the New Traditions Festival minisite:
2017.newtraditionsfestival.com