The Caribbean Fashion & Arts Feature Festival (CFAFF), will hold its 1st edition on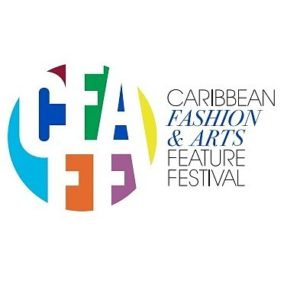 November 17– 19, 2016 in the Royal Chartered Borough of Arima and surrounding East Trinidad communities. The Festival continues its call for submissions for fashion related documentary features and short films. The Festival has also put out to call to Secondary Schools in East Trinidad to submit artwork for a joint exhibition honouring this year's Festival theme- "Afro diasporic Linkages and the Caribbean Voyage".
CFAFF operates out of AKIMBO, an independent concept retail entity and artistic event space, showcasing Caribbean fashion and accessory designers, artists and lifestyle products, located in the Borough of Arima. As the Festival's creative hub, AKIMBO will function as a destination for festivalgoers and screenings, exhibitions, panels and after-parties. Other venues will include popular Eastern nightspots and the picturesque Phillipa's Garden, which is a private residence in Arima with award winning gardens and home to a family, rich with artisanal talent.
The festival aims to foster more regional collaboration, highlight work being done in the fashion industry, create more opportunities for event tourism, contribute to the current roster of film festivals in Trinidad and Tobago and most importantly position East Trinidad as a festival destination and thus a place to visit.
With a strong team of professionals who bring experience from across sectors, the Festival is poised to make real impact. CFAFF has already made linkages with the co-founder of the Berlin Fashion Film Festival and the founders of the Tandem Movement in Barbados, which is an exhibition and design space that showcases contemporary design, featuring spatial accents, fashion & accessories, furniture, fine art painting & photography, and objet d'art by ten Barbadian designers and artists to boost the Festival's regional and international appeal. Representatives from both entities are set to attend.
Why Host a Fashion Film and Arts Festival?
From South Africa to Istanbul to Berlin to Canada to Mexico, Fashion Film Festivals have been founded with the mission to raise awareness of the genre of fashion film and present work to an international audience. Fashion Film Festivals are connectors for film makers, photographers, fashion designers, production agencies, advertising agencies and press.
With the Caribbean being one of the only regions that does not yet have a Fashion Film Festival of its own, CFAFF's arrival is timely. This genre, though in its infancy, is developing and growing and we need to be there from the start. CFAFF also comes at the end of the local film festival season which runs from September to November, adding another local festival to the landscape that offers a different genre of film.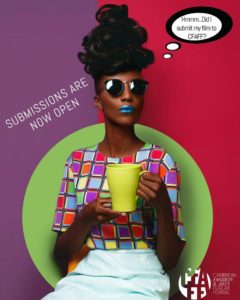 Deadlines to submit films for the 2016 Caribbean Fashion & Arts Feature Festival are as follows:
September 17 – October 31 (Early Deadline), 2016: Submissions open for documentaries, short films, young designer fashion film project
November 5, 2016: Official entry deadline for documentaries, short films, young designer fashion film project
Complete information regarding submissions, eligibility and rules and regulations for the Caribbean Fashion & Arts Feature Festival is available and open request to cfaffsubmissions@gmail.com. Questions regarding submissions may also be directed to the above email address or by calling 868-381-6469.
Film Categories
The multifaceted festival will screen and honour fashion related films from the region in three categories namely
SHORT FILM (Best Fashion Film, Best Direction, Best Editing, Best Actor, Best Production Design)
BEST YOUNG DESIGNER FASHION FILM PROJECT
BEST FASHION DOCUMENTARY CATEGORY
Art
Artists from across the region will be asked to submit pieces on this year's theme – "Afro Diasporic Linkages and the Caribbean Voyage", to be exhibited at the Launch of the Festival. The exhibition and theme will set the tone for the Gala Closing event which will call for formal dress of the night, as guests will be expected to choose their fashion to match the theme. Secondary school students are being engaged to participate by creating artwork based on the theme to be exhibited jointly during the festival.
About CFAFF
Caribbean Fashion & Arts Feature Festival (CFAFF), is a non-profit organization, incorporated in the Republic of Trinidad and Tobago in 2016 with the mission to merge fashion, film and art through public film screenings, lectures, exhibitions, fashion shows, concerts and festivals for the general public. With a strong interest in youth development, the organization is mandated to host workshops, mentorship initiatives, educational sessions and seminars related to film-making, fashion and arts for young people aged 15-25, primarily in East Trinidad, interested in careers in the creative sector to assist with skill building, support internship opportunities and build job experience As an independent and creatively led non-profit entity, CFAFF intends to utilize the annual festival as a vehicle for fundraising to implement programs and provide an additional platform for local and Caribbean, fashion, film and art.
Founded by Kevon Foderingham, Karen Kennedy, Selvon Foderingham, Dr Alicia Martin and Kerry Parris in 2016, the Festival brings together an expanded executive team including Aadel Chin-Albert, Ain Earle, Cheyenne Baptiste and a group of dedicated volunteers with the aim to contribute to the economic diversification and cultural innovation through an annual celebration of film, art and culture.
For Press Inquiries Contact:
Ain Earle – The Fashion Arch, 868-771-1583, thefashionarchtt@gmail.com
Kevon Foderingham – CFAFF, 868-491-3684, caribbeanfaff@gmail.com