UNCOVERED      
expose, reveal, lay bare, unprotected, reveal, unveil
In her latest exhibition, Trinidadian artist, Sian Pampellonne unleashes a  collection of gorgeous canvases dripping with the raw essence of the people and nature in her world. The exhibition, entitled: Uncovered will be held at The Hideaway Design Warehouse, the former Hideaway of Calypso King Sparrow, at 2 Simeon Road, Sparrow Drive, Petit Valley.
Using acrylic on canvas and mixed media, the work was created as an exploration of what lies beneath the surface of accepted public facades and affectations.
In speaking about the exhibition's theme, Pampellonne says, "I read an article on a woman who had been killed for removing her burka to take a photograph. It was an honour killing by her family. It spurred me to think of all the veils and masks we wear to hide who we truly are – the artifice of
makeup, fashion and false ways of being we sometimes adopt to make ourselves feel acceptable, and the societal judgements we participate in and the body shaming culture. It made me think about how true essence is rarely seen. The exhibition's title piece: "Uncovered" came from that." Pampellonne, a resident of Barbados, is the protégé of her grandfather, renowned Caribbean artist, Gordon Parkinson. "My grandfather taught me to look at the world, through the eyes of the artist… limitless boundaries… nothing is as it seems." From tutelage in her grandfather's studio, Pampellonne went on
to open her own graphic design firm and to evolve her own body of art.
She has won numerous awards for her graphic design work and in 2016, she won the Fine Arts Bronze Award from the National Cultural Foundation of Barbados. Her art has been acquired by local and international collectors and is on-show in Trinidad in the exhibition; Uncovered.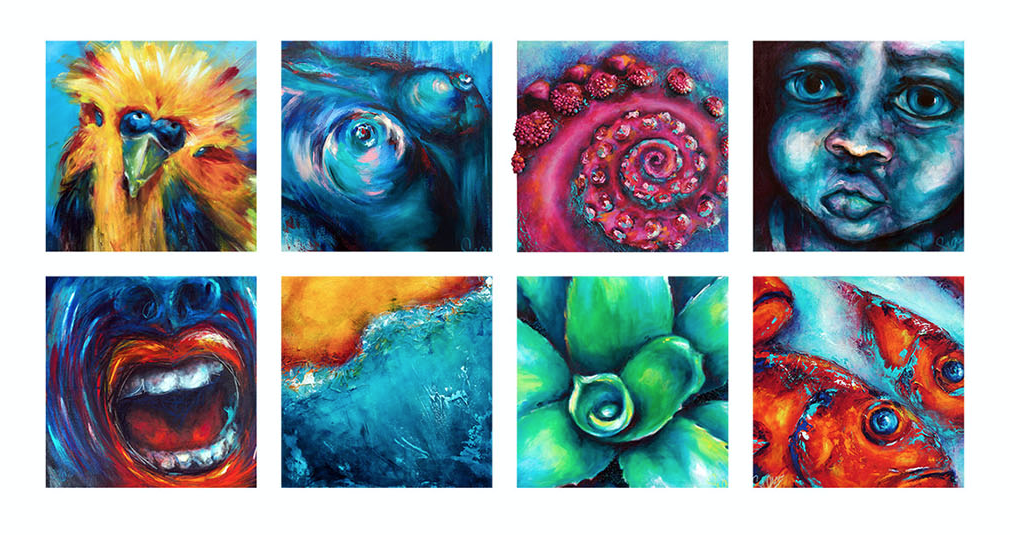 THE CATEGORIES EXPLAINED   There is a natural progression in my pieces which correlates with particular moments, places and experiences in my life. Each series has an underlying theme or common thread which connects one piece with another and each series is tied to a particular life event.
ANIMAL   These pieces are fun and whimsical paintings which provide levity to their surroundings. The common theme which ties the series together is that all of the animals are painted with emotive eyes. These pieces depict all of the positive human attributes which I believe are also inherent in animals.
CHILDREN & PORTRAITS   Oscar Wilde wrote, "Every portrait that is painted with feeling is a portrait of the artist, not of the sitter". In all the faces I paint, I see myself. My 'faces' are the manifestation of my interactions with others, especially those encounters which provoke a visceral reaction. My portraits of children reflect the vulnerability and fragility we all share. There is an innocence in the face of a child which cries out for protection. They represent the uncorrupted and untainted elements of life which need to be validated and preserved. My adult 'faces' are a medium for me to question the restraints we place on ourselves. They are mainly reactionary and always reflective.  
CONCEPTUAL   My art is not only a vehicle for self-expression but also for self-discovery. These are my 'check-point' pieces, where I reflected on the ethos of my being. They are solitary pieces since this is a process which only I can go through, where all that is known, is stripped away, laid bare, examined and questioned.
NUDES   My nudes are works of duality. They are deliberately raw, unadulterated, unmodified and devoid of enhancement. While seeking to address body-shaming issues head-on, my objective is to celebrate the exquisite and formidable feminine form… the essence of a woman instead of focusing solely on a woman's physical attributes.
FLORA   The floral series are my "love" pieces. As with love, theses pieces have movement, expansion, depth, texture and transitions. Others show the dichotomy of love – those moments where effort and recommitment are needed to reinforce a burgeoning romance so that it can bloom.
SCENERY   Everything – be it a person, a place or a thing – contains energy. This energy is the invisible force which vibrates and radiates in varying degrees. These canvases portray how positive energy can connect, unite and bond us to objects, people or even our surroundings. There is always this connective tissue. Some pieces illustrate how energy is a force which radiates, replenishes and renews. They are impactful and energizing and pulsate with energy created from within and around us. Others transport the viewer to places where energy is enveloping, soothing and balancing. The energy within these scenes creates a feeling of serenity.
SEA LIFE   The sea life pieces started with the "Inked Series". These pieces explore and celebrate the feminine. This series is about change, changing shape, adapting, flowing. The tentacles take on a spiraling form, swirling outwardly in evolving continuity. They are hypnotic and compelling canvases which almost beckon you to come in, look deep within and be enveloped in warmth, love and beauty.
The tentacles depict touch – they are tactile, they hold and adhere themselves to things creating a bond or seamless connection. The suctions resemble buds, slowly expanding until they blossom.
---
ABOUT THE ARTIST

SIAN PAMPELLONNE was born with an innate creative spirit. As the child protégée of her grandfather, the renowned Caribbean artist Gordon Parkinson, she was nurtured and tutored by him throughout her childhood. During the countless hours spent in her mentor's studio, she was encouraged to use "art" as an outlet for self-expression. The fiery, red-headed youth was taught to channel her pent-up energies, unexpressed thoughts and feelings into creating works of art using whatever treasures she could find in and around his studio. Each piece helped to tell a story which words seemingly could not. Recalling the countless afternoons spent with her grandfather as his de facto apprentice, Sian said:
"My grandfather taught me to look at the world through the eyes of an artist. This led to numerous fertile and intellectually stimulating discussions. The domain of the artist is one which is filled with a broad spectrum of interconnected colours, fluid shapes and limitless boundaries. Nothing is as it seems. He taught me to use art as a form of self-expression and experimentation in ways which would prove to be cathartic later in life.  He instilled in me the tools and techniques which I could use to explore the possibilities of my creative self. Anyone can paint an esthetically pleasing picture but an artist hones those skills needed to paint with emotion."
Sian continues to use acrylics and mixed media to create intricate visual stories on each unique canvas. Her vivid and emotive pieces are said to resonate deeply with those who view and admire her work and her pieces adorn the walls of many local and international collectors. . In 2016, she received a Fine Arts Bronze Award from the National Cultural Foundation in Barbados. Her work can be viewed on her website and social media pages (see links below), in several Barbadian art galleries and also at her studio by appointment.
"Creating art, for me, is an instinctive response to the world we live in, its people, nature and life events. I have difficulty aptly expressing myself in words, so painting serves as a vehicle for communicating my innermost thoughts and emotions."
Sian Pampellonne
[tw-divider]
THE 

EXHIBITIONS
[/tw-divider]
2017
UNCOVERED | 

Solo Art Show at the Hideaway Design Warehouse, Trinidad

THE GROVE ON THE WALL | 

Pop-Up Gallery Group Show at the Limegrove, Barbados

ARTIST ALLIANCE BARBADOS "HOME" | 

Pop-Up Gallery Group Show at Norman Centre, Barbados

ARTIST ALLIANCE BARBADOS | 

Pop-Up Gallery Group Show at Sheraton, Barbados

THE BIBA CHARITY "AN EVENING WITH THE MASTERS" | 

Pop-Up Gallery Show at the Mercedes Showroom, Barbados

PERSPECTIVES | 

Group Show at Art Splash Gallery, Barbados
2016
THE ANONYMOUS EXHIBITION | 

Group Show at the Frame Art Gallery, Barbados

THE CARMICHAEL EXHIBITION | 

Group Show at the Village Gallery, Barbados

NIFCA | 

National Cultural Foundation, Barbados | 

AWARD: Fine Arts Bronze

DIVERSITY | 

Group Show at the Gallery of Caribbean Art, Barbados

CARIBBEAN FINE ARTS FAIR (CAFA) | 

Pop-Up Gallery Group Show at Divi Southwinds, Barbados
2015
THE ANONYMOUS EXHIBITION | 

Group Show at the Frame Art Gallery, Barbados

THE CARMICHAEL EXHIBITION | 

Group Show at the Village Gallery, Barbados

FOR THE LOVE OF ART

| 

Group Show at the Gallery of Caribbean Art, Barbados
2014
THE CARMICHAEL EXHIBITION | Group Show at the Village Gallery, Barbados
PUBLICATIONS
ARTSY SHARK ON-LINE GALLERY | 

Selected Feature Artist: "Interpreting the Human Figure."

WORLD OF INTERIORS MAGAZINE UK | 

Published in May, June and July Issues
CONTACTS
C2-16 Graeme Hall Park, Christ Church, Barbados
Email: artist@sianpampellonne.com
Website: www.sianpampellonne.com
Facebook/Instagram: sianpampellonneartist