"A Million Stitches" :  New work  by Pat Farrell Frederick and Alexander Guerrero, now  on at the Art Society of Trinidad and Tobago. In case you have not been just yet, you still have a few days to catch the exhibition by Pat Farrell Frederick and Alex Guerrero at their duo exhibition "A Million Stitches" which ends this Friday 28th July 2017.
Both Frederick  and Guerrero use  the art of the stitch to travel and evoke  landscapes we've all  seen, imagined,  felt at some point between reality and a dream… 
"A Million Stitches" presents a refreshing  turn  of the simplest element of sewing – the stitch -, re-inventing  its utility and primary function, to become part of an ornate constellation.
[tw-divider]About the Artists[/tw-divider]
Pat Farrell Frederick
After pursuing her studies  in Canada, Pat Farrell Frederick returned to Trinidad in the 70's, where she taught Textile science and Applied Art at  the John Donaldson Technical Institute, now UTT for 29 years.
She has exhibited 2 every years  at the Art Society of Trinidad and Tobago (ASTT), May and November exhibitions. Her piece "My Red bean Tree" Embroidery, won 1st prize at the ASTT Member's exhibition last November 2016.  No stranger to the Women in Art Museum's annual shows between 2011 to 2015. Her first solo exhibition was in June 2011, followed by another later on in the same year – in October.  Last April, 6 of her pieces were submitted to the BOX OUT exhibition  entitled "MIXED BAG"  hosted by 59Rivoli Gallery, Paris France.  Exhibition ran from April 28 to May 8, 2016.
Alexander Guerrero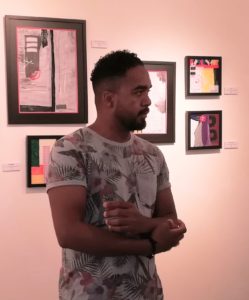 Alexander Guerrero  is a mixed media  Artist from Venezuela,  living and working in Trinidad for the past 3 years.  Guerrero is a self-taught artist, inspired by his mother who taught him to sew. As a child, he remembers watching her while she made his school uniforms.   In this 2nd exhibition Guerrero explores the use of new materials and  the stitching technique , which represents a brave, new world for him where he takes his work further.  Guerrero wishes to express his sentiments and his own introspection entirely, through his pieces. He is not bound by limitations imposed by career, one's previous training – artistic or not.  A firm believer that anyone can become anything, he seeks to  inspire those observing his art to start doing something new, so as to discover the infinite facets of themselves. [/tw-column]
By A. Gregoire