From Friday 7th to Sunday 9th July, the Marionettes is on the move again to add to their considerable tally of performances with Hearts Beat Together 2 — a celebration of music and community!
With so much work to be done in our communities and NGOs already stretched to the limit, members of the Marionettes have made it a priority over the last year — as they have many times since inception — to partner with organisations around the country to raise funds for critical initiatives. Between July 2016 and April 2017, the group hosted nine different performances from which they donated over half a million dollars, as well as contribute to their own Property Fund.
For this second edition of Hearts Beat Together, the Marionettes adult, Youth and Children's choirs – once again under the batons of Artistic & Musical Director Gretta Taylor and Assistant Musical Director Dr Roger Henry – head to All Saints Anglican Church in Port of Spain on Friday 7th (7.30pm), Our Lady of Guadalupe RC Church in Paramin on Saturday 8th (7.15pm) and the Abbey at Mount St Benedict in Tunapuna on Sunday 9th (5.00pm).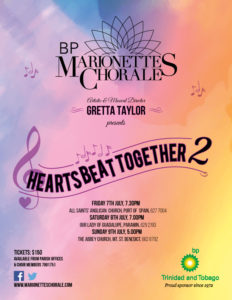 Hearts Beat Together 2 will again showcase the Marionettes' three choirs performing a range of music — spirituals, gospel, Broadway, calypso classics arranged by Desmond Waithe, and much more. Classical music lovers can especially look forward to a full performance of the ever-popular, dramatic and hauntingly beautiful Fauré Requiem in the first half, featuring Garfield Washington (baritone) and Dominique Akal (soprano). And fans of some of the nation's top soloists of all ages — including Jacqueline Johnson, Gillian Seecharan-Nancoo, and Hermina Charles — won't leave disappointed. The choirs' movement is once again choreographed by the legendary Noble Douglas, while the versatile, award-winning Karen and Kathy Norman (K2K Alliance & Partners) have designed the women's gowns.
As always, the Marionettes' artistic ambitions and community partnerships are supported invaluably by BP Trinidad & Tobago (bpTT). "The Marionettes has become an institution in Trinidad and Tobago by using music as a force for positive change," shared bpTT Regional President Norman Christie. "They reinforce the idea that music can bring together cultures and generations."
[tw-divider]DETAILS[/tw-divider]
Friday 7th |  7.30pm |  All Saints Anglican Church, Port of Spain
Saturday 8th |  7.15pm |  Our Lady of Guadalupe RC Church, Paramin
Sunday 9th | 5.00pm  |  the Abbey at Mount St Benedict, Tunapuna
Tickets:  $150.
They're available from:
All Saints Church Office (627-7004);

Our Lady of Guadalupe Parish Office (629-2193)

Pax Abbey Shop at Mount St Benedict (662-8792)

from choir members

and from the Marionettes production team (790-1751,

Email at  orders@marionetteschorale.com
For more information about Hearts Beat Together 2, visit the group's Facebook page at facebook.com/marionetteschorale.
[tw-toggle title="ABOUT THE MARIONETTES"]
Founded in 1963, incorporated as a non-profit organisation in 2005, and sponsored by bpTT since 1972, the Marionettes is one of the Caribbean's most celebrated choirs, both at home and abroad. In 1995, the Youth Chorale was formed, followed by the formation of the Children' Choir in 2012. With a longstanding commitment to community partnerships, the choirs have raised over TT$3 million dollars in the last decade, in aid of the restoration of national monuments, help for victims of domestic violence, regional hurricane relief efforts, cancer treatment and prevention, mentoring and rehabilitation programmes for at-risk youth, and care for those with HIV/AIDS and the terminally ill. For more, visit marionetteschorale.com.
[/tw-toggle]