Dance Caribbean COLLECTIVE is drawing closer to the New Traditions Festival 2017: Our Caribbean Spirit. This three night festival offers a platform for Caribbean Dance Artists to tell their story and share their choreography during Caribbean-American Heritage Month. Each night of the festival presents dance performances by local Caribbean choreographers and a signature collaborative community dance project titled, "Our Caribbean Spirit". The festival takes place at Mark Morris Dance Center on Friday and Saturday June 16th and 17th at 7pm with a post show talk back, and Sunday June 18th at 5:30pm with a closing reception.
Tickets for each night's show are priced between $15 – $30 and are available here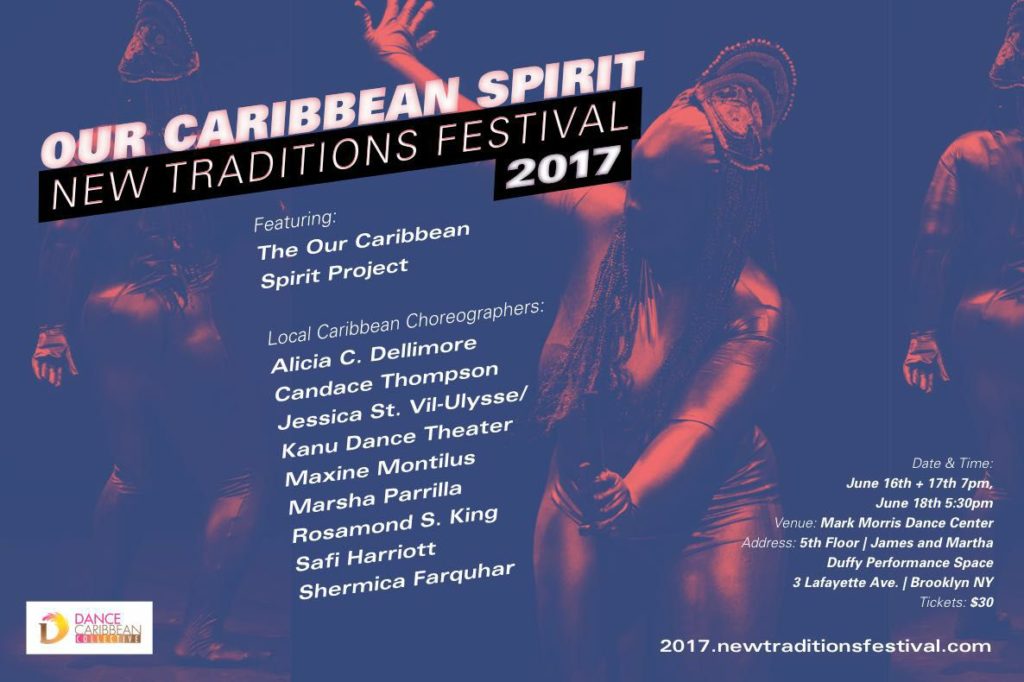 This year's choreographers include new contributors, Rosamond S. King, Shermica Farquhar and Marsha Parrilla, in addition to DCC members Alicia C. Delimore, Candace Thompson, Jessica St. Vil-
Ulysse, Maxine Montilus and Safi Harriott. These dynamic artists are presenting work inspired by their roots spanning from St. Vincent, Trinidad and Tobago, Jamaica, Haiti and Puerto Rico. As aforementioned, the festival will include the "Our Caribbean Spirit" collaborative project directed by DCC founder Candace Thompson, featuring 8 dancers from the Caribbean dance community. This body of work includes interviews of various Caribbean Cultural Leaders in conjunction with "Our Caribbean Spirit" project dancers to explore how movement from various island cultures, tells the story of our resilience and exuberance.
DCC's most recent, Our Caribbean Spirit Blog post mentions, 'The hope is to highlight through various mediums, the multiple ways Caribbean-ness is expressed throughout the Caribbean Diaspora and to continue the conversation through live performance at New Traditions Festival 2017. The Festival hopes to be a lively meeting place for new and innovative ideas about Caribbean movement and culture.
Coming up for Dance Caribbean COLLECTIVE
[tw-toggle title="Community Caribbean Master Class Thursday May 18th 6pm | BK College"]
Led by two of this years festival choreographers, Maxine Montilus and Kanu Dance Theater celebrating Haitian Flag day.(FREE) Class will take place in Roosevelt Extension room 203.
[/tw-toggle]
[tw-toggle title="Diaspora Dance Series: Dance and Percussion with Andrea Woods, May 25th 6:30pm at BKSD"]
Get a glimpse of various Caribbean dance styles represented by different countries and their respective instructors Every other Thursday at Brooklyn Studios for Dance ($15)
[/tw-toggle]
[tw-toggle title="Open Rehearsal at BKSD Residency June 1st 8:15pm + at BK College June 2nd at 2pm"]
See what the DCC Artists in Residence have been working on for the festival.
[/tw-toggle]
[tw-toggle title="The New Traditions Festival 2017: Our Caribbean Spirit, June 16th-18th, Mark Morris Dance Center"]
A 3-night dance festival featuring local Caribbean choreographers and dancers. The weekend includes: 3 evening performances, a post-show reception and discussion. Tickets: click here
[/tw-toggle]
About Dance Caribbean COLLECTIVE
Dance Caribbean COLLECTIVE is an organization that is dedicated to bringing and facilitating Caribbean Dance works, performances and culture to the Caribbean Diaspora in the U.S. and more specifically Brooklyn, NY. See more on our website: www.dancecaribbeancollective.org and the New Traditions Festival minisite: 2017.newtraditionsfestival.com.