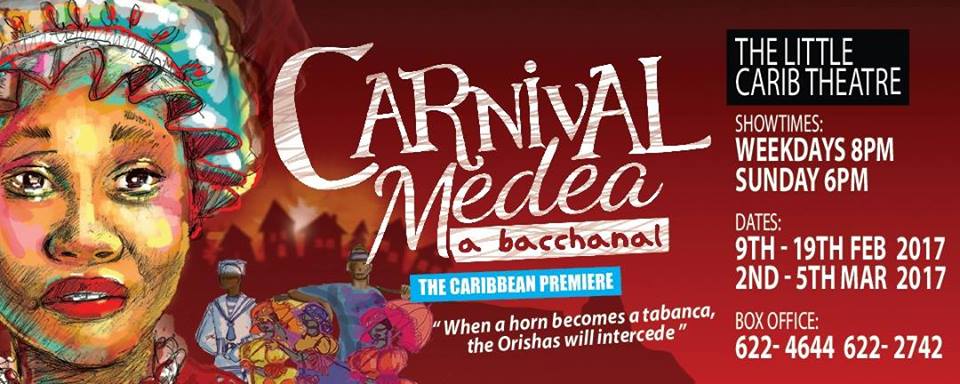 From the producer of Jean and Dinah, Miss Miles, comes the retelling of this Greek classic, Medea by Euripedes. Playwrights, Dr Shirlene Holmes and Rhoma Spencer fill the play with the nuance of the Trinidad Carnival and the subtle humour of its people; packing an age old story of the woman scorned into a 'aural and visual spectacle'.
With an all star cast of the Canadian, Barbadian and Trinidad and Tobago stage and film scene, Carnival Medea- a bacchanal features the Trinidad/Canadian award winning actor and playwright – Joseph Jomo Pierre Pierre of Toronto, Cecilia Salazar of Miss Miles fame, Penelope Spencer ( Jean and Dinah, Mary Could Dance), Susan Hannays-Abraham from the award winning film Doubles With Slight Pepper, and introducing Tishanna Williams – actor, singer and fresh from her performances in Bitter Cassava.
Carnival Medea- a bacchanal is directed by popular T&T, Canada based, performer and director, Rhoma Spencer with Movement and choreography by Christopher Sheppard.
The show's approximate run time is 2 hours and 15 minutes , including intermission.
General Admission: $200 TTD. If paying via cheque, please make it payable to the Michael K. Hall Community School
February 9-12 /16-19. March 2-5, 2017.
Showtimes: Thursday to Saturday at 8.00pm. Sunday Matinees at 6:00pm

For more info: Go to www.carnivalmedea.wordpress.com
Social Media and Digital Marketing powered by: The Trinidad and Tobago Performing Arts Network