BY PAULA LINDO
Saturday's performance of Miracle, one of three new plays being staged for the first time as part of the New Play Festival 2016 at the Trinidad Theatre Workshop (TTW), was widely hailed by those present as an admirable piece of work. The play, which was written by Ronald John and directed by Brendon O'Brien, is loosely based on a true story.
O'Brien said he staged the production as a black comedy, although it was originally intended to be a serious drama.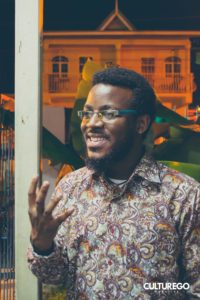 "I didn't have much of a vision for the play going in, I just wanted the play to expose itself to me and to the cast. So when I first read it, I had a lot of thoughts about it that I didn't want to reveal to anybody else necessarily. Then I let the cast read it altogether and let them tell me what they thought and what they were experiencing, and figured out how I could build and discover that stuff.
Obviously the playwright had his own preconceived notions of what the play was trying to do, but what was really interesting was that the actors had totally different answers, and I was much more interested in discovering that than imposing stuff on them, so really it's totally their job and their visioning, and I just shaped and facilitated their process for the actors to come to the realization of the characters."
Actors Kala Neehall, Jovon Browne, Kwasi Shade, Jarod Baptiste and Robyn Beckles were highly praised by the director and the audience for their portrayals of their various characters. Their performances were multi-layered, nuanced and really captured the essence of what the director wanted, including the comedic timing which had the audience in stitches.
The New Play Festival, which was a project instigated by Tony Hall, featured three plays which had never been staged before, with three young directors and casts of relatively inexperienced actors. The directors, who are relatively new, were assisted by experienced dramaturges Wendell Manwarren, Mervyn de Goeas and Rawle Gibbons respectively, with the further assistance of Michael Cherrie and Raymond Choo Kong. The process of the New Play Festival began months ago with a Directors' Forum conducted by Dr. Lester Efebo Wilkinson. Penelope Spencer and Christine Johnston were instrumental in choosing the various casts, in their roles as Casting Coordinators.
[tw-divider]PANEL DISCUSSION [/tw-divider]
The Festival is being presented by Playwrights Workshop Trinbago and the TTW, with support from the National Drama Association of T&T (NDATT).
The Play Festival runs from

October 28 to 31.

For more information, find them at Trinidad & Tobago New Play Festival on Facebook, email newplayfestivaltt@hotmail.com or call 351-6293 or 388-6238.