Under the aegis of theatre legends Albert Laveau and Tony Hall, three young directors; Johnathon Thatcher, Cydelle Crosby and Brendon O'Brien, will bring to the stage three plays which have never before been produced; Safa Niamat-Ali's HELL, Ronald John's MIRACLE, Sonja Dumas's ANGELS LIVE IN TUNAPUNA.
[tw-divider] Festival Dates | Venue [/tw-divider]
Friday 28th – Monday 31st October
Location: Trinidad Theatre Workshop | 23 Jerningham Ave. Belmont, P.O.S.
Admission: $40 for one show |  $60 for two different shows
[tw-divider] THE PLAYS  [/tw-divider]
HELL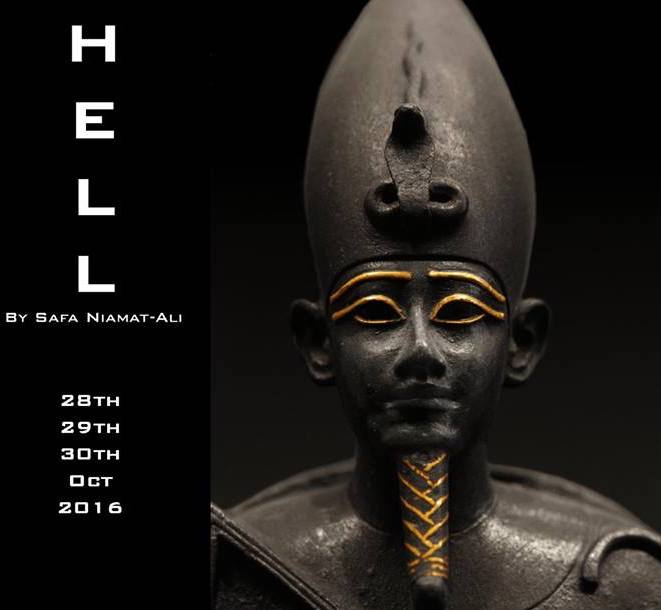 A play by Safa Niamat-Ali
Directed by Cydelle Crosby

An angry girl embarks on a journey of vengeance; her penultimate goal…to make the Devil pay for every wrong ever committed against her.
Dates | Times:
Friday 28th October at 6PM
Saturday 29th October at 4:30PM
Sunday 30th October at 6PM
---
MIRACLE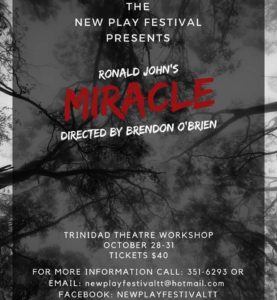 A play written by Ronald John
Directed by Brendon J. O'Brien
In Ronald John's 'Miracle', nothing and no one is as they seem. The misleading story begins with a woman's kidnapping, and quickly goes off the rails when what seems to be a miracle throws a wrench in the kidnappers' plans
Dates | Times:
Friday 28th October at 7:30PM
Saturday 29th October at 6:30PM
Sunday 30th October at 3PM
Monday 31st October at 6:30PM
---
ANGELS LIVE IN TUNAPUNA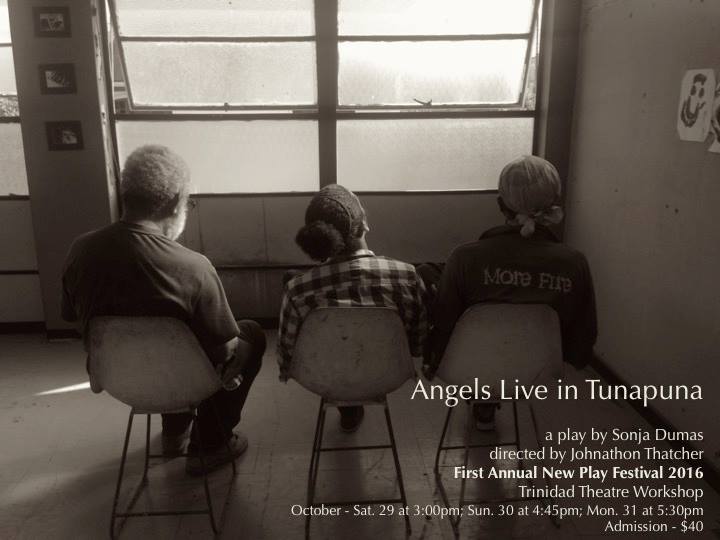 A play by Sonja Dumas
Directed by Johnathon Thatcher
Two friends are forced to confront their estrangement while they await a decision about where they will spend eternity
Dates | Times:
Saturday 29th October at 3PM
Sunday 30th October at 4:45PM
Monday 31st October at 5:30PM
[tw-toggle title="About The Trinidad & Tobago New Play Festival"]
The Annual New Play Festival 2016 aims to unify and grow the presently fragmented theatre community within Trinidad and Tobago. It also promotes the possibility of young directors, playwrights, actors and technicians emerging from our communities. Therefore, the young directors and actors will be given the opportunity to work with experienced theatre practitioners such as Wendell Manwarren, Mervyn De Goeas, Penelope Spencer, Ralph Maraj, Christine Johnston, Michael Cherrie, Rawle Gibbons and Dr. Efebo Wilkinson, amongst others.
The festival is a tool which will be used for the current revitalisation of the National Drama Association of Trinidad and Tobago (NDATT). The theatre practitioners in Trinbago aspire to establish and foster the growth of a theatre industry in T&T, as a viable, sustainable source of revenue for both the fraternity and the nation.
The Annual New Play Festival 2016 runs from the 28th to 31st October, 2016, at the Trinidad Theatre Workshop, Corner Norfolk Street and Jerningham Avenue, Belmont. Over the course of four days the three plays will run a combined total of ten times. Additionally, the festival programme comprises post-mortem panel discussions to elicit the views of the festival participants, inclusive of the audience. We also intend for the festival to tour the nation, performing at non-traditional theatre venues, to raise awareness of local theatre works and build support by inspiring the citizenry to appreciate and respect local theatre.
[/tw-toggle]