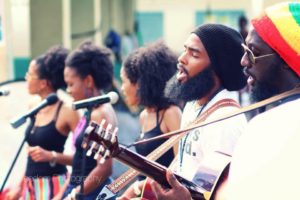 Gearing up for their highly anticipated debut album, Freetown Collective stops by True Talk No Lie to give a full performance!
The well traveled Trinidad based music group is a tribe of highly passionate and talented young people,Muhammad Muwakil, Lou Lyons, Shanna Joseph, Tishanna Williams and Malene Joseph, who through their work, seek to continue the great heritage left by Calypsonians, storytellers, poets and chantuelles who came before, and share the stories of a generation that has yet to properly articulate its position in this ever shifting world.
The Freetown concept follows on the notion that every man and woman has a personal responsibility to free themselves from negative mental and social chains so as to free their families, neighbourhoods, nations and by extension, the world. 
No doubt the highly praised group will be sure to impress! Check out their latest single featuring Bunji Garlin below:
---
Date & Time: September 28th from 7pm
Venue: The Big Black Box, #33 Murray Street, Port of Spain
Cost:  $60 or $15 for performers (open mic list opens at 7:00pm)