Honest, fluid, transcendental, Ryan Huggin's debut exhibition explores a little seen part of the psyche. The Observer shows an early-career artist thoroughly occupied with questions of travel, space and time rooted in the Trinidadian condition. By investigating the conventions of oil painting and the realism of Caribbean landscapes, Huggins offers a rare glimpse into a world where the unseen becomes seen and ordinary sights render uncanny. His work serves to provide the audience the respite of introspection into his world and themselves.
Many of the works in this collection explore the role of linearity and the representation of movement as progress in the surrealist Caribbean imagination, a continuing theme Huggins intends to develop as he furthers his studies at the Arts Academy in the city of Düsseldorf, Germany, Kunstakademie Düsseldorf.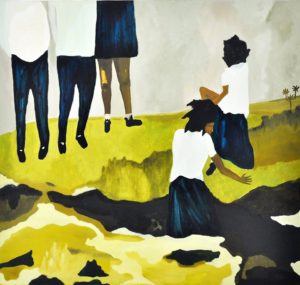 Painting by Ryan Huggins entitled "Debut Bitch"
About the Artist:
Ryan Huggins is an emerging painter based in Port of Spain Trinidad & Tobago. He has recently graduated from the University of the West Indies with a BFA in Fine Art (Hons) and is currently preparing to further his studies at the Kunstakademie in Dusseldorf Germany starting September 2016.
Huggins has exhibited in joint shows over the past 4 years at galleries such as the Y Art Gallery, The Art Society of Trinidad & Tobago, the National Museum of Trinidad & Tobago and several other informal spaces in Trinidad. Huggins has also assisted in curatorial projects at the Y Art Gallery from 2011 to present.
Date & Time: August 20th-27th. 6:30pm-8pm
Venue: The Y Art Gallery, 26 Taylor Street, Port of Spain
Admission: Free
Check out The Y Art Gallery on Facebook for updates about The Observer and more!