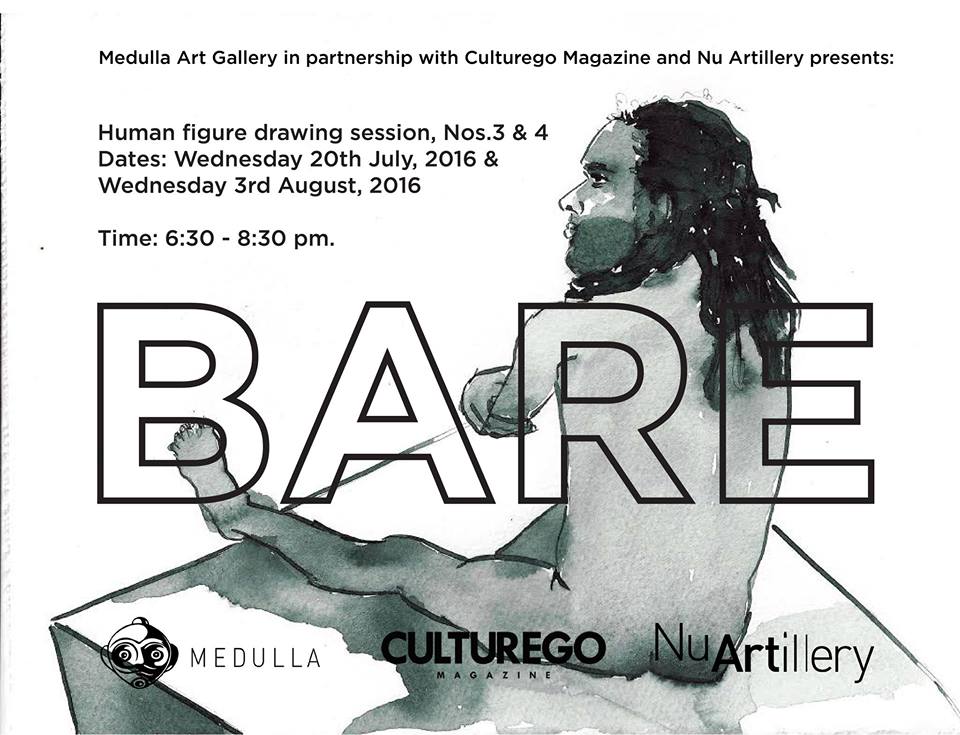 Medulla Art Gallery in partnership with us at Culturego Magazine, and NuArtillery presents BARE: Human Figure Drawing Session Nos. 3 and 4.
ABOUT BARE:
BARE is a meeting place for people who wish to develop their creative skills, while learning and practising several techniques in the area of figure drawing.
Participants have time to practice and learn what they are interested in through keen observation of models and space.
Live drawing sessions are an opportunity to draw and meet fellow artists, gain inspiration, and experiment with new techniques in an intimate setting.
Poses normally last from 5 minutes to 20 minutes (total drawing time: 80 mins), and vary between sessions on portrait, mostly nude but also half dressed poses. Sessions offer a big range of possibilities to go deeper in the drawing and painting world.
---
Media: pencil, charcoal, conte, markers, watercolours. Please ask us about restrictions on acrylic and other paint. Fixative NOT to be sprayed indoors
Dates: Wednesday 20th July, 2016, at 6:30 – 8:30pm.
& Wednesday 3rd August, 2016, at 6:30 – 8:30pm.
Cost: $80 TT Regular, $40 TT Students with I.D.
Venue: Medulla Art Gallery, 37 Fitt Street, Woodbrook, Port of Spain
Due to limited space, participation will be confirmed by reservation and advance payment only.
Bring your materials, cushions, drawing boards and supports.
NO PHOTOGRAPHY ALLOWED.
For more info or to make reservations contact-
Tel: 680 1041 or 622 1196
Email: medullaartgallery@gmail.com, infoculturego@gmail.com, shea@nuartillery.com