GERRY ANTHONY talking about NEW FIRE FESTIVAL 2016
This article is being published retroactively. The interview was done before the New Fire Festival held on Saturday 26 th and Sunday 27 th March, 2016 in Trinidad and Tobago. The information is still relevant, but has been edited to include a video of the event.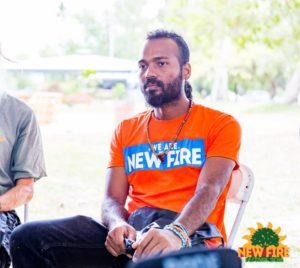 Over the last two years, the New Fire concert series has established itself as one of the places to see Trinidad and Tobago`s outstanding"non-traditional" musicians. Think pop, rock, electronica, rap and more, all being performed by local musicians at a level equal in quality to global counterparts.
The New Fire series was envisioned as a musical event to transform the cultural landscape of Trinidad and Tobago. After two years, New Fire Founder Gerry Anthony decided that an event of a grander scale was necessary to have the kind of reach that could achieve visible social change. Enter New Fire Festival; a two day outdoor experience highlighting many of the country`s top musical artists in addition to showcasing activities and initiatives that can make Trinidad and Tobago a more positive and sustainable environment…in Gerry`s words, an event to inspire "a new way of being". We spoke with Gerry about his plans for the festival.
What are you trying to achieve with the New Fire Festival?
GA: I have not really felt like we have been able to make enough of an impact with the New Fire series.
So the festival is taking it a bit further. A whole weekend where people can come into a space of magic.
If you leave there and you haven`t been affected then something is wrong with you. Laughs. The festival involves so many different things that the chance of having a wider reach is much greater because everyone will come for something out of that whole bag of offerings for the weekend.
The main aim of the entire New Fire movement is to culturally move from a destructive kind of path into a sustainable path of wisdom. Basically we need to move into a new way of being. We are kind of reverse geared in our society. Where are we actually going? What is it geared towards? What we do, where is that going to have us end up? The ultimate thing I want us to achieve is being a wise culture.
Can you talk about the zero waste initiative which is a major pillar of the event?
GA: The overarching ethos is sustainability. We are trying to create a very progressive space, just a sneak preview to a world of possibility, sustainability is a key part of that. Zero waste is what we`re aiming for; we know that we probably won`t hit that target on the first year but we are still going hard for it.
We`re telling festival attendees, walk with their own reusable containers, because we won`t be using disposable containers. That`s the first thing. So you walk with your own reusable containers. Your cup, your plate, your fork, whatever you`re going to be using. So when you come, you use that and you take it back- there`s no waste. We won`t be using things like disposable plastic bottles containing soft-drinks, bottled water etc.. Those are the first lines of zero waste.
We`re going to be encouraging some vendors to use leaves to wrap their items. We are selecting vendors who can fall in line with that no waste policy. Vendors who are going to be selling food, we are asking them if they can find ways to serve their food that are in line with our zero waste goals. If they are not able to then we have to find other vendors. That`s the second thing. We might end up using paper trays and paper bags, and if we do, we will be composting those things after so we`re going to be closing the loop on that. Biodegradable waste is going to be dealt with on the site. One of the things we are going to be doing is staging a demonstration of how to compost. Table scraps, kitchen scraps etc., composting them to feed plants.
So it will be a two day zero waste camping experience, with live music, and a rave. Can you talk about some of the other unique elements of the event?
GA: We are going to have all kinds of activities. There is going to be a wellness area. We are going to have people doing alternative healing; crystal bowl healing, ground therapy, sound therapy, massage therapy. We`re going to have yoga sessions. There will be talks on meditation, talks on permaculture, talks on composting, talks on community enterprises. There`s going to be a series of different talks and demos.
There`s the rave that`s going to be happening from midnight on Saturday which is going to be pure electronic. Basically 6 hours of electronic ecstatic movement, you just move, you just dance. We don`t want restrictions, people must be free to move, and do whatever they want to do.
Is there anything else you would like to say about the event?
GA: We are hoping that the event can be a watershed moment in the cultural evolution of the society. We know that that is being very wishful but we feel as if it can be. We are hoping that people go away from the event with a good feeling and talk to people and next year around we have a greater number of persons coming. People go away thinking "Wow, would you believe there really was no waste, there was no rubbish!" And people carry away those things and are affected by it. They then go home and they start to practise similar principles, "Let me see if I can really reduce the amount of waste that I create". I think there`s no better thing than a festival to really be the impetus for that.
HIGHLIGHTS FROM THE EVENT:
A video from Caribbean Insight Magazine: http://www.caribbeaninsight.org/magazine/