Three Generations of actors will take the stage in Trinidad Theatre Workshop's (TTW) production of The Thief Lord, inspired by the children's book of the same name by Cornelia Funke and adapted by Timmia Hearn, TTW School for the Arts Director.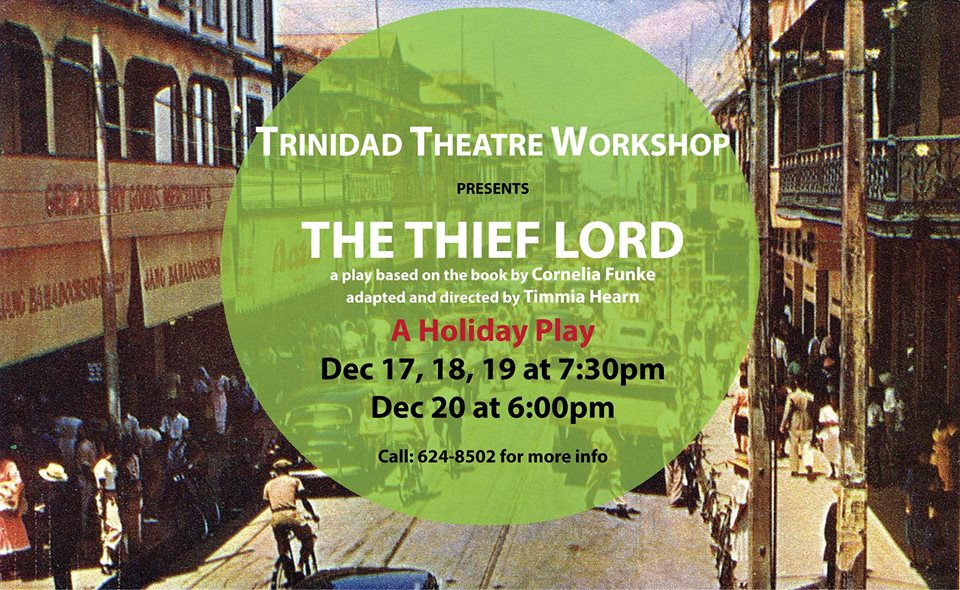 This event for the whole family takes the audience on a magical journey through the streets of Port of Spain, following a group of children as they strive to survive in an adult world, and the friendships, and magical spirits they encounter while tackling topics such as homelessness, poverty, class and the prison system, through the eyes of children. It is a reminder during the holiday system of those whose fortunes are different from ours, and to live with an open heart and mind.
This production is put on as a fundraiser for TTW's School for the Arts programme, where most of the child actors study. TTW gives away numerous scholarships each term to children who are interested, but unable to pay, for classes. Suggested donation at the door is $150 per person, or what you can pay.
[tw-divider]Cast:[/tw-divider]
Albert Laveau returns to the stage in the mysterious role of the Conte. TTW Trained actors Afi Ford-Hopson, Rhesa Samuel, Triston Wallace, Blair Ambrosia Cameron and Khadijah Hinds perform a range of roles and critically acclaimed Nickolai Salcedo plays bumbling detective Victor Gordon.
The cast is lead by children actors Hakeem Dublin (in the title role), Tamia Jameson, Jamaya Serrette, Toni Hospedales, Oledele Cutting, Jamaiya Johnson, Charles Grey and Melissa Hayes.
[tw-divider]WHEN:[/tw-divider]
December 17th, 18th, and 19th at 7:30pm, and 20th at 6:00pm.

[tw-divider]WHERE:[/tw-divider]
Trinidad Theatre Workshop, 23 Jerningham Ave., Belmont
SUGGESTED DONATION: $150 at the door, or what you can pay.
All funds go to support TTW's ongoing scholarship programme which allows children who cannot afford classes to attend classes for reduced price or no cost.