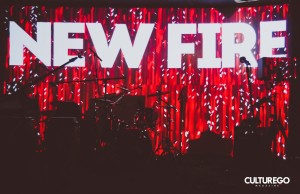 There was love energy ignited for the New Fire concert, Songs of Solomon at De Nu Pub on Thursday 6 August 2015. The musical instigators: Sheldon Blackman with siblings and a friend, and Solomon Gabriel with an ensemble of experienced musicians. Just after 9 p.m. Sheldon and his band opened with an offering, the prayer-like Overflowing with a surprisingly haunting acoustic guitar sound and a drizzle of steel pan. The hymn-like chant drew the crowd in like members of a reunited choir with deep baritones floating to the top. The vibrant applause at the end conveyed nothing but delight and approval.
WHERE IS THE FIRE?
Sheldon, Marge Blackman and Clifton Harrydass seemed to have been lost in the music as the bassist, Jeremy McIntosh strummed chords reminiscent of a Barrington Levy song. The musical genius of Clifton was unmistakable as he blissfully and gracefully switched from keyboard to pan to a wind instrument. Eldon and Isaac Blackman's drumming infused the air with an old kaiso/world music beat. Guests were swinging their hips and a few raised two hands in celebration of de sweetness; those seated didn't enjoy themselves any less. This was followed by a song called Maracas, penned as an expression of tabanca. It evoked laughter from the crowd as Sheldon sang about longing to touch his baby, Maracas. It was slow, sensual and the aroused crowd joined in whispering Maracas. Guests, a mixture of young and old, arrived between 10 and 11 p.m. Many friends and acquaintances greeted one another with smiles and hugs.
The penultimate song, Watch Out My Children was a tribute to Sheldon, Marge, Eldon and Isaac's deceased father, Ras Shorty I, the Father of Soca. For the second time that evening, as the crowd sang each word, there was a connective embrace and swaying from side to side. The incomprehensible Spanish lyrics from the crowd led to belly laughs upon recognition that they didn't know the words. Sheldon invited the crowd to join hands, sharing the love energy. As the song ended, the roaring applause turned into a request for an encore. This performance ended around 10:20 p.m. with a tribute to steel pan.
The end of the 18-minute intermission was signalled by a rhythmic voice recording of the veteran musician Solomon Gabriel, thanking activist Wayne Kublalsingh for showing others that
"there are issues worth the sacrifice".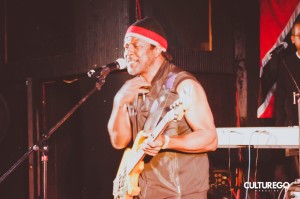 There was a buzz of friends chatting, some filtering back into the venue and some departing. The band's music seemed to be a mixture of blues, 80s funk and soul but proved even more diverse as the eccentric Solomon, backed on vocals by his keyboardist and bassist, delivered a cover of Sting's Shape of My Heart and Bob Marley's Concrete Jungle.
Solomon performed most of the set seated on a stool with his eyes closed. The crowd wasn't settled or familiar with his music but appeared pleasantly surprised and eventually began singing along for Shape of My Heart and Concrete Jungle. The band reenergized them with some memorable guitar runs and music which transported enthusiasts to a New York 80s basement club. There was a rare smile and a few dance steps from Solomon for Make My Move. Be My Friend had a warm, feel-good 80s sitcom-theme-song vibe. The crowd really enjoyed it as the applause was accompanied by whistles. The band continued with a strong social statement in That is Your System, and Solid as a Rock just as the crowd was warming up. The crowd's request for more was satisfied by a repeat of Be My Friend.
 It is hoped that the notable presence of representatives from the Ministry of Arts and Multiculturalism's Division of Culture is indicative of the beginning of a fruitful partnership. With giveaways from CULTUREGO Magazine and the musical treat from both bands, guests departed thoroughly satisfied and eagerly anticipating another opportunity to re-connect with friends while enjoying the music of talented local artists at the next New Fire concert. There was a love revolution at De Nu Pub. The fervor shared among and inspired by the musical instigators was beautiful.
Gallery